Gosport deaths: More time to quiz suspect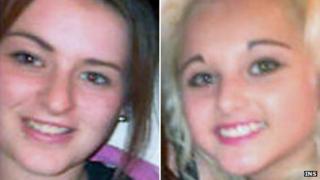 A man suspected of murdering two teenage girls who were hit by a car, can be quizzed further by police.
Jasmine Allsop, 14, and Olivia Lewry, 16, were struck by a Honda Civic in the early hours of Sunday while walking in Gosport, Hampshire.
Jasmine was pronounced dead at the scene while Olivia died later at Queen Alexandra Hospital in Portsmouth.
Detectives have been granted more time to question a 20-year-old man arrested on Sunday morning.
A police spokesman said: "The suspect can now remain under arrest in police custody for interviewing until 12.25am on the morning of Thursday.
"A decision will follow on whether there is enough evidence at that time to charge the suspect with a criminal offence."