Gosport deaths: Mother kissed crash victim goodbye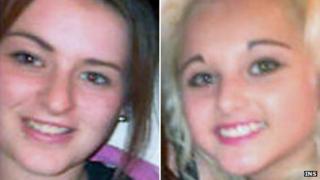 The mother of a teenage girl killed in a collision with a car outside her home said she kissed her daughter goodbye as she lay dead in the road.
Jasmine Allsop, 14, was killed on Ann's Hill Road, Gosport, early on Sunday with her friend Olivia Lewry, 16.
Police have been granted a further day to question a 20-year-old Gosport man on suspicion of murder.
Rosemary Allsop said: "I told her she was my angel and I'd loved her since the day she was born."
Speaking from her home, close to where Jasmine died, Ms Allsop, 37, described her daughter as "a gorgeous, lovely, bubbly character".
"I kissed her - it was four hours before they took her body away because I did not want to let her go," she said.
"I'm empty inside and lost. I keep expecting her to come through the door."
'All a blur'
Ms Allsop said she had gone to bed when the incident happened and was woken by the emergency services.
"It was just all a blur," she said. "I cannot remember what happened.
"I had gone to bed. I didn't see anything. I just thought they [Jasmine and Olivia] were playing CDs and talking about boys and make-up."
She described the girls as "best friends".
Jasmine died at the scene while Olivia was pronounced dead at Queen Alexandra Hospital in Portsmouth.
Jasmine's father Kevin MacLaughlan, 58, also paid tribute to his daughter.
He said: "I do not know how we are going to get through this. We have run out of words of comfort to say."
Hampshire Police is appealing for anyone who saw the crash, near the junction of Ann's Hill Road and Brougham Street, to contact them.
Officers were originally given until 19:30 GMT to question the suspect, but this has now been extended until Tuesday evening.
Tributes were paid to both girls on social networking sites and friends have laid floral tributes at the scene of the crash.