Hampshire fishery lakes to be poisoned to kill Topmouth Gudgeon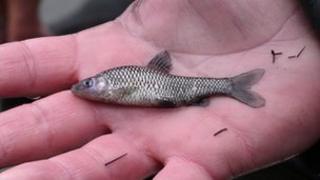 Several lakes at a fishery in Hampshire are being poisoned to wipe out a highly invasive species of Japanese fish that can spread disease to salmon and trout.
Topmouth Gudgeon are believed to have entered British waterways in the 1980s but only recently become widespread.
The Environment Agency removes native species from the water and then adds poisons - the treatment it is to carry out at the FLE Fishery near Romsey.
But some fisheries have said the treatment affects livelihoods.
The Environment Agency said the tiny fish was a "significant threat" to the ecology and wildlife in UK waters.
The FLE fishery in Romsey is not connected to the river system, where trout and salmon live.
However, there is a risk the population of Topmouth Gudgeon could spread if no further steps are taken.
If the species were to enter the Tadburn Lake which connects to the River Test, a parasite called rosette agent could affect the salmon population.
The FLE fishery will remain open for business during the treatment, with one lake being treated at a time in a two-stage operation, ending in April.
The agency will try to remove as many fish as possible from the lake before putting in the piscicide Rotenone.
Critics say the poison stays in the waterways for months and sometimes years. Some businesses also say the method impacts on future business and fish stocks.
However, the Environment Agency said Rotenone was a "naturally occurring organic substance" that did not affect mammals or birds.
It said the chemicals would break down within a "few weeks" and they would monitor levels of chemicals to ensure the treatment has been effective.
According to the Environment Agency, Topmouth Gudgeon can carry infections and parasites which can wipe out entire populations of native fish.
Topmouth eat the eggs and larvae of native fish and out-compete native fish for food and habitat.