Damien Nettles: Renewed appeal on 17th anniversary of missing teen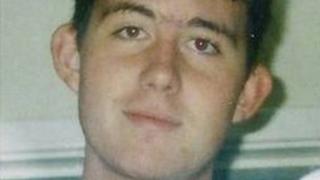 Police are renewing an appeal for information on a missing Isle of Wight teenager on the 17th anniversary of his disappearance.
Damien Nettles vanished after a night out with friends in Cowes on 2 November 1996, when he was 16.
Police believe he was murdered, but despite a £10,000 reward from a local businessman no remains have been found.
Hampshire Constabulary said they have renewed the appeal to remind the public that "the case is not closed".
The now-expired reward was offered anonymously and led to new information, but police said it did not provide fresh evidence or any credible lines of inquiry.
The last confirmed sighting of Damien, who was 6ft 3in (1.91m), was on CCTV in Yorkie's fish and chip shop off Cowes High Street at 23:35 GMT.
In 2011, detectives arrested eight people on suspicion of murdering Damien, who lived in Woodvale Road in Gurnard, Cowes.
They were questioned over the course of a year and released with no further action.
Chief Supt Dave Powell said: "Our files remain open to receive any new facts that members of the public may have about Damien's disappearance or location."