Hampshire's Ageas Bowl hotel plan: Eight firms come forward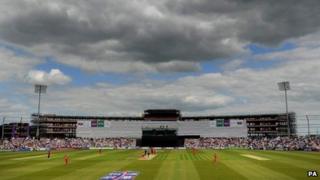 At least eight companies have expressed an interest in taking over a contract to build a hotel at Hampshire's Ageas Bowl cricket ground.
Work on the 175-room Hilton was halted last month after developer Denizen went into administration.
The scheme has been backed by Eastleigh Borough Council which has committed to buy the finished hotel for £27.5m.
Council leader Keith House said he was encouraged by the response from potential contactors.
He promised taxpayers would not have to foot a bill for the delay and said any extra cost would have to be absorbed by the Ageas Bowl and its funding partners The Co-operative Bank and Downings Finance.
75% complete
"It will not fall back on the council. They have no choice really, they have to complete it," the Liberal Democrat said.
On the eight unnamed firms to come forward, Mr House added: "I think it's good, clearly the market is competitive, we're very keen to work with any contactor which comes forward."
Original developer Denizen collapsed in early October and said efforts to turn the firm around failed.
It said there had been "serious flaws" in the pricing of a number of the contracts.
Hampshire Cricket Club said funding for the hotel, which is about 75% complete, remains in place and it was working to bring in a new firm as quickly as possible.
A spokesman added that the new media centre would be ready in time for the Test match between England and India in July.
The Ageas Bowl development was agreed in 2012 with the council committing to invest millions of pounds of taxpayers' money.