'Naked rambler' Stephen Gough loses High Court appeal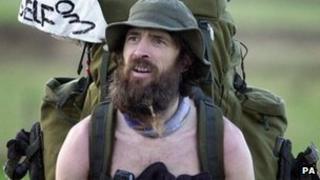 A man known as the "naked rambler" was being "deliberately provocative" when he walked through a town in the nude, a High Court judge has said.
Stephen Gough, 54, had appealed after being convicted in March for being naked in public while walking through Halifax.
Gough, from Eastleigh in Hampshire, was fined by magistrates over the offence.
Dismissing the appeal, Lord Justice Leveson said Gough "knew full well" his actions would leave people "alarmed".
Gough, a former Royal Marine, gained notoriety when he walked from Land's End to John O'Groats and appeared in a TV documentary.
He had argued there was nothing intimidating about him appearing "in his natural human state".
The court was told heard he had walked through Halifax wearing only his walking boots and socks and carrying a compass round his neck and a rucksack.
He had been arrested earlier that day, but was released from the town's police station. Within 15 minutes, he was rearrested.
'Pressing social need'
Steven Powles, defending, said his actions were not "disorderly behaviour or anything at all likely to cause members of the public fear or distress".
"Mr Gough was entirely passive. He did nothing more than appear naked, in his natural human state."
He added that there was "nothing inherently insulting about the human body".
"There are naked statues, naked cyclists on the streets of London - there is absolutely no sexual element to Mr Gough's behaviour.
"It is not Mr Gough's behaviour that is disorderly, it is people's reaction to him."
In judgement, Lord Justice Leveson said that "by walking through the town centre entirely naked, he was violating public order and was thus disorderly".
"There was nothing passive about his conduct in that he knew full well, not least from his own experience, that many members of the public would both be alarmed and distressed by the sight of his naked body.
"Furthermore, he was being deliberately provocative in order to support his own stance."
The judge accepted Gough had a human right to express himself through his nakedness, but said there was a "pressing social need" for the restriction of that right in this case.
"To say the adverse reaction to Mr Gough's nudity is not his problem or the result of his behaviour is to ignore reality," he said.