Ammonite collector fills Dinosaur Isle 'fossil gap'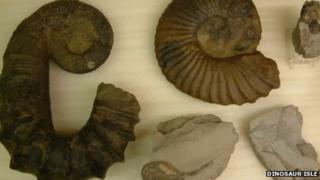 A fossil enthusiast has "filled a gap" in a museum's collection by donating his ammonite finds.
Paul Newton collected the spiral-shaped fossils along the Isle of Wight's southern coast over 30 years.
His collection of more than 20 finds, which also includes unusual fossilised lobsters and a crab, will go on display at the Dinosaur Isle museum.
Manager Peter Pusey said "skilled collectors like Paul are so important to preserving the island's heritage".
Mr Newton said he had been "collecting fossils for most of my life and have always had a real interest in the different remains of long gone sea creatures".
"I hope that visitors to the museum will be as enthused with them on display as I was when finding them," he said.
Ammonites were free-swimming molluscs of the ancient oceans, living around the same time as dinosaurs.
They became extinct towards the end of the Cretaceous period, 65 million years ago.