Southampton University Roman port study gets £2.1m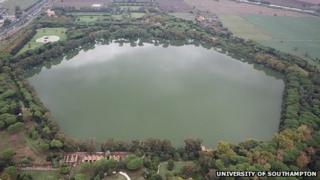 The University of Southampton is to conduct a study of Mediterranean Roman ports from Turkey to Spain after winning a €2.49m (£2.1m) grant.
The 31 ports in nine countries will be examined using surveys, satellite imagery and ancient texts.
The five-year study will focus on the first two centuries AD and aims to discover how the network served trading routes 2,000 years ago.
It is being funded by the European Research Council.
The university will also work with others across Europe, including the University of Oxford, and others in France, Austria, Spain, Italy and Turkey.
Satellite imagery
Southampton head of archaeology Prof Simon Keay, who is leading the project, said: "We will explore the relationship between these 31 ports and look at how they integrated to form a crucial part of vast trading networks across the Roman Empire.
"They formed one of the world's most important trading systems, operating at a time when the Mediterranean was a unified region.
"By studying these networks, we aim to gather a wealth of knowledge about how they operated and why - also helping to set in context how trade was conducted in later historical periods and, indeed, today."
Archaeologists are to conduct field work at eight of the ports - Ephesus, Pitane and Kane in Turkey, Gades and Tarraco in Spain, Portus and Puteoli in Italy and Utica in Tunisia.
The remaining 23 - in France, Egypt, Tunisia, Italy, Spain, Turkey, Libya, Israel and Greece - will be studied using satellite imagery and existing archaeological records.
The team will be looking for structures such as harbour basins, canals, warehouses and residential buildings.