New Forest National Park given £4.5m to restore ancient woodland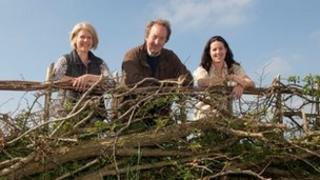 The New Forest National Park has been given a grant of £4.5m to restore ancient woodland, grassland, waterways and heritage buildings.
The funding will help preserve the area's "special qualities", formed over a thousand years of land management based on commoning rights.
A forest ranger apprenticeship scheme will encourage new commoners.
Landowners will also be encouraged to learn forestry skills that were traditionally used in the area.
'Community spirit'
Commoners are people living in parts of the New Forest who have historic rights to graze cows and pigs in the forest and to use turf and woodland for fuel.
Stuart McLeod, of the Heritage Lottery Fund (HLF) said the New Forest was "well-known" for its unique system of "commoning" rights and "strong community spirit".
"Sadly, both the countryside and its accompanying way of life are now under increasing pressures and if urgent action isn't taken their future could be threatened," he said.
The HLF has given the New Forest a £2.9m grant to restore lost habitats, develop forest skills and encourage new people to care for the national park.
The seven-year New Forest Landscape Partnership will be led by the New Forest National Park Authority and ten other partners, who will contribute their own funding to increase the total to £4.5m.
Other priorities for the project will include: helping landowners manage neglected woodlands, creating wildlife corridors through hedgerow planting, conserving the forest's fringe against urban creep and restoring the area's archaeology and historic buildings.