Kenneth Kendall's partner committed suicide 'overcome by grief'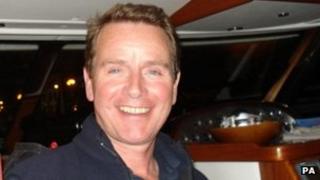 The partner of former newsreader Kenneth Kendall killed himself because he could not face the future without him, an inquest has heard.
Francis Fear, known as Mark, was found at his Isle of Wight home on 29 April, four months after Mr Kendall's death.
Mr Kendall, the BBC's first on-screen newsreader, who also presented Channel 4's Treasure Hunt, died following a stroke last December, aged 88.
He and Mr Fear, 55, were civil partners and had been together for 23 years.
The couple had met in London and opened a gallery together in Cowes following Mr Kendall's retirement from television work.
Mr Fear's friend Neil Robertson told the inquest his partner, Vicki Wyatt, had been "principal in trying to pick him [Mr Fear] up" following the death of Mr Kendall.
'Prepare yourself'
He said they had last seen their friend alive on 28 April when the three of them watched a Manchester United football match together at Mr Fear's home.
He said Mr Fear's "eerie" last words to him were: "I really enjoy watching these matches with you."
Mr Robertson discovered his body the following day after he failed to make an appointment.
The coroner heard when Mr Robertson was unable to contact his friend, he told a member of staff at the gallery: "Prepare yourself for the worst, I am expecting this is not good."
A note addressed to Ms Wyatt, found next to Mr Fear's body, read: "Look in the Notes app on my iPhone for info. I am sorry to land you in all this.
"I simply cannot face the future without Kenneth. M x."
The inquest heard the cause of death was hanging.
Isle of Wight assistant coroner John Matthews recorded a verdict of suicide, saying Mr Fear had "suffered a tremendous amount of grief".
He said: "His friends were very concerned about him, certainly for the first month or two after his (Mr Kendall's) death, to the extent they really looked after him so, as much as possible, he wasn't on his own.
"He seemed to get better and they were hopeful that he would be back on to a more normal keel and, indeed, he was making plans with Mr Robertson for holidays."
After the hearing, Ms Wyatt said: "We had lots of adventures together with Mark. We had lots of fun together.
"Mark Fear and Kenneth Kendall had a 23-year relationship and, as civil partners from the earliest opportunity, their relationship was worthy of the greatest admiration and respect."