Trees uprooted in Hampshire and Isle of Wight by storms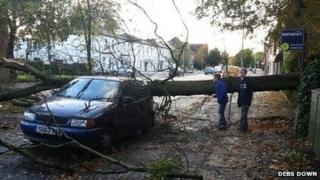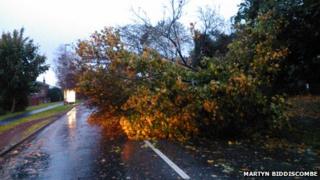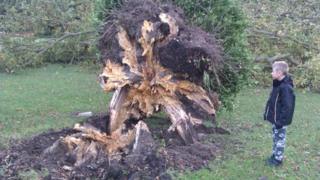 Roads have been blocked by fallen trees and homes left without power after storm-force winds swept across Hampshire and the Isle of Wight.
Rail operators told passengers not to travel. Wightlink and Red Funnel ferry routes also faced disruption.
The Met Office said a gust of 99mph (159km/h) was recorded at Needles Old Battery, Isle of Wight.
Hampshire County Council said about 145 roads were shut at some point overnight due to the weather.
Travel
Check if this is affecting your journey
In other developments:
Martyn Biddiscombe, who sent in a picture of a fallen tree in Chandler's Ford, said: "It's pretty bad, there are bins everywhere, it's quite an obstacle course."
Steve Burrell was up for most of the night nervously watching an oak tree outside his home in Bursledon.
'Hairiest night'
He said: "I was terrified it was going to blow into my house.
"Just after 5.30 I heard an almighty gust and the whole house shook.
"I looked out the window and all I saw was the stump of the tree.
"All the kids in the area are playing on it like an adventure playground."
Alex Fogarty, who works for Wightlink Ferries, said: "We had probably the hairiest night since I've worked for Wightlink.
"At about five o'clock this morning we had the full force 11 gusting hurricane-force winds.
"The passengers held up rather well, fortunately the direction was from the west to south-west which meant that the crossing was not too lumpy."