Roller hockey skaters 'break world record' for longest game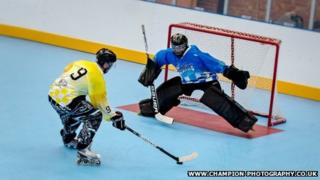 A group of inline roller hockey players have surpassed the world record for the longest ever game.
Two teams of players from across the UK began battling it out at 10:03 BST on Saturday at the Solent Arena in Fareham, Hampshire.
They went past the current Guinness World Record of 25 hours and 20 minutes on Sunday morning and stopped after exactly 30 hours.
The final score saw the "yellows" beat the "blues" by 376-190.
The previous record was set in 2010 by a French team based in Guernerin.
That match ended with the "white" team beating the "yellows" by 220-122.
'Very tired'
Claims of longer games can be found online, including skaters in Belgaum, India, who said they played for 30 hours last year, but this has not been verified.
The new attempt, which has to be confirmed by Guinness Word Records as a new world best, featured four outfield players and one goalkeeper rotated from the pool of 31 participants - as per the record regulations.
Each player was granted a five-minute convenience break for every full hour they spent on the rink.
Setti Mulari, chairman of Solent Arena owners Salmiakki, said: "When we broke the record it was a bit subdued because everybody was very tired.
"It was much more energised when we got to 30 hours.
"We asked if anyone wanted to carry on but the majority said it was enough, although some of them said they could do another 30."
The event was filmed with the footage being sent for verification.