Southampton biomass plant application delayed again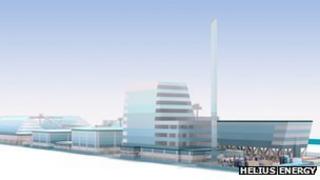 Campaigners say they are "in limbo" after a company behind a proposed biomass plant in Southampton is still to submit a planning application.
Helius Energy initially said it would submit plans for the £300m wood-fired power station in autumn 2012.
The latest self-imposed deadline was the third quarter of 2013 but this has too lapsed without any progress.
Helius said the application would be submitted "in due course" but would not give an idea of the timeframe.
Steven Galton, from No Southampton Biomass (NSB), said he believed Helius had been stalling while trying to finance another biomass plant in Avonmouth, Bristol.
That plan was given the go-ahead in 2010 but has since failed to get off the ground.
'Power 200,000 homes'
However, this week it was announced the proposed plant was one of a number of renewable energy schemes in line for up to £33bn in government guarantees.
Mr Galton, from NSB, said: "I'm not surprised Southampton hasn't progressed when they can't get funding in place for the one they did get permission for.
"I think the viability of these schemes have declined. I personally can't see Southampton as having a future."
He added: "[The consultation was] so far back, new people have moved into the area, it seems crazy for the developers to drag their heels and leave us in this limbo."
The plant would work by burning large amounts of organic matter with the steam spinning turbines to create electricity to be fed into the National Grid.
Because the development is a nationally-significant project, planning permission would be decided by the Secretary of State for Communities and Local Government.
Helius declined to comment on whether the Southampton station was dependent on the Avonmouth situation.
A spokesman added: "The proposed plant would generate sufficient electricity to power 200,000 homes.
"A full application... is being prepared and will be submitted... in due course."