Sainsbury's sorry for 'too young' baby remarks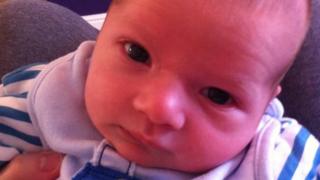 Supermarket chain Sainsbury's has apologised after a worker told a new mother she "shouldn't be out of the house with a baby this young".
Sabina Latto said she was approached by the female employee in a store in Hedge End, Hampshire, with questions about her six-week-old son, Myles.
But the conversation turned and she was later asked: "Where's the father?"
She complained while in the store and the worker apologised. Sainsbury's said it was investigating.
Mrs Latto said it was one of the few times she had taken Myles out of the house since he was born.
'Almost speechless'
"I was approached by a member of staff, and when you have a new baby lots of people approach you and usually it's very kind things like 'oh isn't he gorgeous', and initially that's how the conversation started," she told BBC News.
"Unfortunately it took a very sudden turn when she decided to tell me that, basically, I shouldn't be out of the house with a baby this young.
"She asked me what I was thinking 'bringing my son to a place like this'.
"It left me completely shocked, I was almost speechless."
The new mother said other shoppers stepped in to defend her but the remarks continued during the incident on Wednesday.
"Then she went on to ask me where my son's father was," Mrs Latto added.
"[It] made it seem like I wasn't looking after him properly and that I was neglecting him when all I was doing was having a look round the shops."
She made a complaint and was taken for a chat in the store's cafe where the employee later made an apology.
In a statement, Sainsbury's said: "We are deeply concerned by this incident and apologise unreservedly to Mrs Latto for the distress this has caused her.
"We are investigating what happened and the store manager would like to meet Mrs Latto to apologise in person."