William Watson, 93, named as man killed in Freshwater collision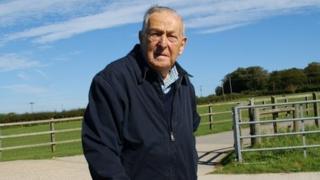 A family has paid tribute to a "loving" 93-year-old great grandfather who died in a collision involving a school bus and two cars on the Isle of Wight.
The collision happened in Newport Road, also known as Middle Road, near Freshwater on Tuesday morning.
William Watson, 93, from Golden Ridge, Freshwater, was airlifted to Southampton General Hospital but later died.
His family said he would be "sadly missed by all that knew him".
"He was a loving father to two children, seven grandchildren and seven great grandchildren," they said.
They added that he had "enjoyed good health and a happy retirement on the Isle of Wight" with his late wife Ivy.
A 54-year-old woman, who was driving a Volkswagen Polo, suffered multiple fractures. She is in a stable condition in St Mary's Hospital, Newport.
Police believe one of the vehicles was overtaking a school bus that was pulling into a bus stop.