South Parade Pier pier repairs 'not safe'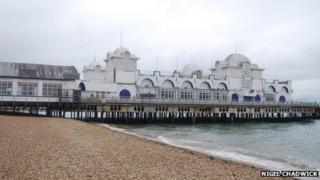 A campaign group hoping to buy a pier in Portsmouth has accused the owners of carrying out unsatisfactory repairs after it reopened.
The owners of South Parade Pier voluntarily shut the main section of the structure last year after it was deemed "a danger to the public".
But it was reopened last weekend after work on concrete and metal sections.
Owner Fred Nash insists it is safe but Leon Reis, chairman of the South Parade Trust, wants the council to act.
Mr Reis said: "I've sent an email to the council. This is not safe.
"It may not collapse this weekend, but steel and concrete cannot resist the sea."
Nigel Benn
The trust has called on the council to compulsorily-purchase the structure, which it said had been valued at £1 in light of extensive repairs needed.
But Mr Reis admitted it would take at least £600,000 to restore the structure and more like £2m to do a proper job.
"It is all taking time, we're volunteers and it's hard work, you're not going to make this [money] from jumble sales and cake sales."
Council leader Gerald Vernon-Jackson said the advice he had received was that the structure "is safe to be used".
He said he supported the trust but using compulsory powers were out of the question until substantial funds were on the table.
"I'm keen that there is a new owner, somebody to repair the pier. There is no evidence the current owners will."
The Grade II-listed Victorian pier hosted a boxing night last weekend and has other events, including "an evening with Nigel Benn", lined up.
Owner Fred Nash dismissed the criticism and said he was planning further repairs next spring, although he admitted he would consider offers to buy the pier.
"We've done repairs to concrete and metalwork.
"I am happy it's completely safe. All I know is that we are professionals and had professionals do the work."
On potential future events he added: "We are having Christmas parties, weddings, perhaps jazz nights."