Sir Ben Ainslie made freeman of Lymington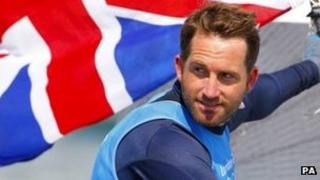 Olympic gold medallist Sir Ben Ainslie has been made a freeman of his Hampshire home town at a ceremony.
The 36-year-old was made an Honorary Freeman of Lymington and Pennington at the event at the town's community centre.
He is the first person to have been given the honour by the town council, which was formed in 1980.
Sir Ben is also an honorary life member of the Royal Lymington Yacht Club.
The ceremony, at 18:30 BST, was attended by the Deputy Lieutenant of Hampshire, Oliver Crosthwaite-Eyre, members of Sir Ben's family and fellow Olympians.
Members of the public also attended.
Sir Ben, who was born in Macclesfield and grew up in Cornwall, has lived in Lymington for 13 years.
He won four gold medals at the London 2012 sailing events, hosted in Weymouth and Portland in Dorset.
'Postbox vandalism'
He was knighted in the 2013 New Year Honours for his services to sailing.
Speaking ahead of the event, Lymington and Pennington town clerk Steve Cridland said: "We have been trying to get this done since January and tomorrow is the only time [Sir Ben] can make it.
"It was his Olympic medals that sparked the whole thing but, of course, the America's Cup has happened since the council's decision."
Sir Ben won medals at all five Olympic games from 1996 to 2012.
Following his 2012 Olympic success, he was honoured with an open-top bus parade through Lymington.
A postbox on the town's High Street was unofficially painted gold in his honour by resident Rob Smith.
The act was initially described as "vandalism" by Royal Mail but it was later decided it could remain gold like the other 111 official postboxes painted gold to honour Team GB's Olympic heroes.
The title of honorary freeman is generally given to people of distinction and people who have given their services to the local area.