New Forest animal road traffic deaths on the rise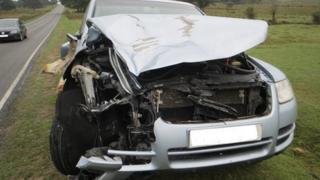 Drivers in the New Forest are urged to take extra care in a bid to halt a rise in pony and cattle road deaths.
Figures released by the national park authority show 48 recorded animal deaths in the first nine months of 2013, a 20% rise on the same period last year.
Reflective pony collars are one measure being introduced in a bid to reduce the number of casualties.
Last month, a pony died after it collided with a car at Howen Bottom.
The passengers were not hurt but the car was seriously damaged.
Nigel Matthews from the park authority said: "Many ponies don't wear reflective collars and you won't see a collar if the pony is facing away from you.
"Look carefully ahead for any animals on or beside the road. They have no road sense, so expect them to step in front of you at the last moment."
Recorded incidents fell to an all-time low in 2012, with 135 accidents, 18 injuries and 64 deaths.