Charles Dickens statue to be unveiled on his birthday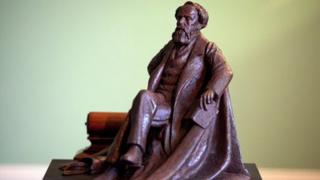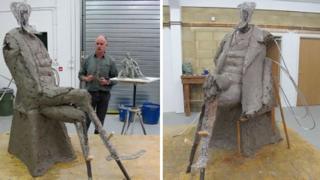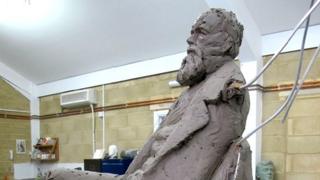 The first Charles Dickens statue in the UK will be unveiled in the city in which the author was born on what would have been his 202nd birthday.
The bronze statue of Dickens sitting down surrounded by books will be placed in Portsmouth's Guildhall Square.
The £140,000 statue will be unveiled on 7 February.
The Charles Dickens Statue Fund is hoping the remaining £12,000 needed for it will be raised at an auction later this month.
Items on sale will include manuscripts, books and a limited edition cast of the sculpture's maquette.
It has been donated by the statue's sculptor Martin Jennings along with a bronze bust of Dickens.
'Loved the stage'
He said: "I wanted the statue to express Dickens's energy, the richness of his imagination and the abundance of his output.
"It's also quite theatrical, fitting I hope for a man who loved the stage.
"It's taken many months to make but I hope people think it does justice to the great man."
Ian Dickens, the writer's great-great-grandson, said he was thrilled the statue was finally going to take "pride of place in his home city" after five years of fundraising.
"It's no secret that Charles Dickens stipulated in his will that he didn't want his friends to erect a lavish monument in the aftermath of his death.
"But the fact that his work remains so loved and remains so relevant two centuries on, a statue that celebrates that achievement is both fully justified and not a little overdue.
"It is not only a tribute to his creative talent, but also reminds us of his passion for reform in social welfare and a desire to see a fairer society.
"And with it located in the Guildhall Square, thousands of people will be reminded of that essential legacy - and for some, perhaps it will encourage them to read Dickens for the first time."
There are known statues of Dickens in Philadelphia in the US and Sydney, Australia.