Isle of Wight art deco hotel demolition plan refused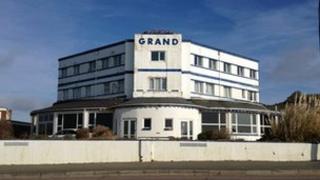 Art deco architecture fans are celebrating after the Isle of Wight Council turned down an application to demolish a 1930s seafront hotel.
The owners of the Grand Hotel in Sandown claimed the building was no longer fit for purpose, as its rooms were small and "badly planned".
They wanted to replace it with a five-storey 53 bedroom hotel with a swimming pool and parking.
But councillors rejected the plan at a meeting.
The hotel features architectural details from the period, which campaigners fought to save.
They said the existing frontage could be kept, while creating a modern hotel.
However, the owners of the hotel said 22 of its 62 bedrooms currently could not be used for guests as they did not meet modern fire regulations.
Military history
They also said the hotel has just 10-12 parking spaces and few service facilities.
Although the hotel is not listed, it played a part in the Isle of Wight's military history, as part of Operation Pluto.
It was the control centre for several buildings with hidden pipelines which supplied fuel for the Allied forces during their push into France following the D-Day landings.
The Save the Grand Hotel campaign group said on its Facebook page: "Once again the owner has been refused planning permission to demolish the hotel.
"We are still a long way from seeing it return to its former glory but its pretty good news all the same.
"Thank you to everyone who has supported the campaign to save it so far."