Giant pumpkin artist sets 'record' for 100m paddle in Portsmouth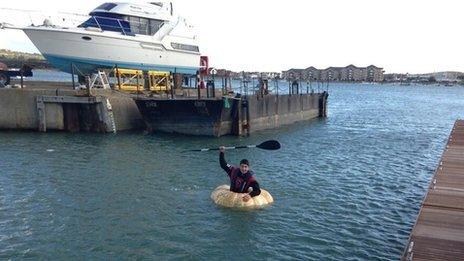 An artist who works with outsized vegetables claims he has set a new world record of exactly two minutes for the fastest 100m paddle in a pumpkin.
Speaking after his 100m paddle in Portsmouth, he said it had been "difficult" but paddling the pumpkin through the dock had "felt good".
Guinness World Records said it had received notification of the attempt.
Mr Galitzine, who also plans to cross the Solent from Portsmouth to the Isle of Wight in a giant gourd powered by an outboard motor, spent days working with boating experts to create two pumpkin vessels.
The larger pumpkin was fitted with an outboard motor for the Solent crossing, while the smaller one was hollowed out for the world record paddle attempt.
His record attempt was recorded by independent adjudicators, and will be examined later, Guinness World Records said.
It had said Mr Galitzine would have to complete the 100m paddle within three minutes to set a new record.
Mr Galitzine, who creates giant vegetable sculptures influenced by English folk culture, has no sailing experience but was supported by Portsmouth marine entrepreneur Jonny Boys.
His next challenge will be the three-mile crossing of the Solent on Thursday from Stokes Bay in Gosport, using a hollowed out pumpkin powered by an outboard engine.
A handful of pumpkin regattas, in which boaters race each other in giant pumpkin ships, have been held in the US and Nova Scotia in Canada since the 1990s.
A pumpkin boat race also took place in Hampshire in 2006.
Mr Galitzine said that while sailing pumpkins was "not common... the crossing over the Solent is different to the regattas in the US, [as] it's over three miles and there are strong tides".
Related Internet Links
The BBC is not responsible for the content of external sites.