Hampshire adult care chief Anna McNair Scott resigns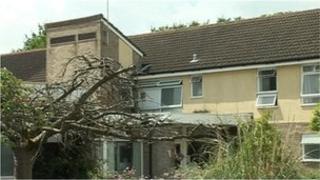 A council cabinet member at the centre of plans to close four adult care homes has resigned after failing to declare a number of business interests.
Hampshire county councillor Anna McNair Scott has resigned from being in charge of adult social services for what she called "a genuine oversight".
The council leader has accepted her resignation.
He said it would not affect plans to close the homes.
Ms McNair Scott had always declared her husband's involvement with Helical Bar plc, a property investment and development firm.
But she had failed to declare other interests, including her role as director at Midland Holdings, which holds a proportion of Helical Bar shares, and her position as director at Maritime Orient and Near East Agency.
She will continue to serve on the council's backbenches.
Hampshire County Council has been consulting on plans to close Nightingale Lodge in Romsey, Cranleigh Paddock in Lyndhurst, Deeside in Basingstoke and Bulmer House in Petersfield.
It wants to use the land or the proceeds from it to develop its Extra Care independent housing for older people.
In her resignation letter to leader Roy Perry, Ms McNair Scott said: "I have concluded it would be distracting to the overall work of the county council for me to continue as cabinet member at this time.
"I'm confident this is the right decision for both myself and the county council."
'Difficult form'
Mr Perry said: "I want the council to be crystal clear, I want the public to be crystal clear, that there could be no conflict of interest and that's why I thought it was absolutely appropriate to accept Anna's resignation."
He added: "I fully accept the incompleteness of her declaration was, in her words, a genuine oversight.
"I had already determined any decision associated with the care homes consultation should be undertaken by the cabinet as a whole, and that will remain the case."
Mr Perry described Ms McNair Scott's husband's business activities as "very large and complex" and said he thought the declaration was "quite a difficult form to fill in".
Dilys Lownsborough, of the Save Bulmer House campaign, said: "I think that all or any of the individuals at Hampshire County Council who have been involved in this should, frankly, back off and that we should have a complete rethink."
A consultation on the closures ended on Friday.
Hampshire County Council said the changes in its care of the elderly were part of efforts to improve outcomes for people, particularly in the early stages of dementia.
This article was first published on 21 October 2013 and updated on 17 February 2014 to clarify that Ms McNair Scott had declared her husband's involvement in property development on the council's register of interests, although she had failed to disclose a number of other business interests. In addition, council leader Roy Perry has confirmed that Ms McNair Scott's resignation was not as a result of a conflict of interest in any decision she had taken.