Hinkler Park, Thornhill assault: Would-be vigilantes warned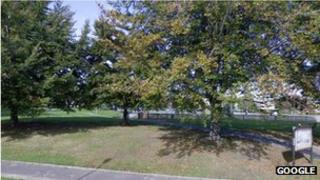 People have been warned not to take vigilante action after three teenage girls were attacked in Southampton.
The 15 and 16-year-old girls suffered facial and head injuries in the assault in Hinkler Park in Thornhill on Friday.
Insp Chris Spellerberg said: "Members of the community should remember that any vigilante-type attacks or incitement of that type of activity will not be tolerated."
A statement from the victims' families also asked for "calm".
An 18-year-old man from the Southampton area has been arrested in connection with the incident and remains in police custody.
Hampshire Constabulary's warnings follow comments and pictures posted by members of the public on social media.
'Extensive investigation'
Two girls, 15, and 16, were treated at Southampton General Hospital following what police called a "nasty" assault at the skate park.
They had exchanged words with a man earlier on the stairs of a block of flats in Chettle Road in Bitterne, police said.
A third girl, 15, received minor injuries.
Insp Spellerberg said an "extensive investigation" was under way and warned people not to instigate trouble online.
"Anyone suspected of committing a criminal offence will be dealt with appropriately," he added.
A family statement said: "We'd like to thank members of the community for coming forward with information and for the support they've given us.
"However, we now need to remain calm and let the police get on with the investigation."