Isle of Wight Ecoisland project 'could be revived'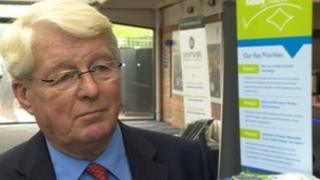 The aims of a collapsed company to make the Isle of Wight energy self-sufficient could still be delivered, a business organisation has claimed.
The Ecoisland Community Interest Company (CIC) went into voluntary liquidation earlier this month.
Director David Green was later found dead at his home. He had previously been arrested on suspicion of fraud.
The Solent Future partnership said it would aim to fulfil the failed CIC's aspirations.
The group is a partnership of businesses dedicated to developing a "low carbon, green economy in the Solent area".
Chairman Jimmy Chestnutt described Mr Green's death as a "real tragedy", calling him as a "visionary".
"Yes, this particular business collapsed, we'll find out the reasons in due course, but the project he launched is as important now as it was then," he said.
"We're determined as a group, with our supporting businesses, to take that project and if possible deliver it in the way he wanted.
"If it's in our power, Ecoisland will be delivered."
Mr Green had been on the board of Future Solent.
Last year Ecoisland presented 14 objectives at a launch event at the House of Commons outlining how it intended to achieve self-sufficiency and become a net exporter of energy by 2020.
It said power for the island, which draws 600GWh of electricity per year from the mainland, could be generated from a waste to energy plant, solar panels and tidal and geothermal power.
A statement released by the company at the beginning of October blamed a lack of funding in a difficult economic climate for the decision to go into voluntary liquidation.
Following the collapse, Isle of Wight Council said it had reviewed the delivery of the government's Green Deal, which offers grants for energy efficiency work for homes and businesses on the island.
Mr Green was held on suspicion of fraud after £115,000 of the government cash was unaccounted for.
His death is not being treated as suspicious. The case has been referred to the Independent Police Complaints Commission (IPCC) watchdog following his contact with officers.