No legal action over Michael Mates PCC election claims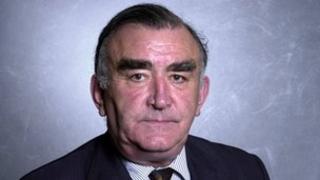 Former Conservative MP Michael Mates will not be prosecuted over his residency while standing in the police and crime commissioner (PCC) elections.
He had denied accusations he rented a flat in Winchester so he could take part in the Hampshire contest.
The Crown Prosecution Service (CPS) said any action would not be in the public interest, despite a conviction being a "realistic possibility".
Mr Mates reportedly said he would have been "perfectly happy" to go to court.
All PCC candidates have to be resident in the place they are seeking election.
The CPS said it had investigated allegations Mr Mates, 79, had entered a false statement regarding his residency on his nomination form for the November 2012 elections.
'Perfectly happy'
"In view of the likely penalty that would be imposed, Michael Mates' age, the fact that the election did not have to be re-run and that his culpability was relatively low, we do not consider that a prosecution would be in the public interest," a statement said.
It added that no action would be taken against another individual who counter-signed the papers.
When asked for a comment, Mr Mates said: "I have nothing to say to BBC South".
In remarks reported by the Southern Daily Echo, he said the decision left him "between a rock and a hard place".
"I find it unacceptable. I would have been perfectly happy to answer any charges in court because I know I have done nothing wrong," he told the newspaper.
Mr Mates was the Conservative member of parliament for East Hampshire from 1974 to 2010.
He had a brief ministerial career in the early 1990s, as a Minister of State in the Northern Ireland Office, which was cut short when he resigned after presenting a watch to fugitive businessman Asil Nadir.
He was the official Conservative candidate for the post of Hampshire and Isle of Wight PCC but lost to independent Simon Hayes after second preference votes were counted.