Girl, 11, chased through Southampton park by 'sad' man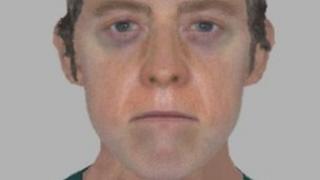 A "sad looking" man who chased a young girl through a Southampton park is being sought by police.
The 11-year-old girl was pursued by the man through Lakelands Park onto Paines Road and Waterloo Road at around 08:00 BST on Monday, police said.
A Hampshire Constabulary spokesman said the man was white, aged about 46, very tall and thin with a "sad" looking face and missing teeth.
The force has released an image of the man in an attempt to trace him.
The spokesman said the man was wearing a ripped long-sleeved dark turquoise top and trainers with no laces.
He added that anyone who recognises the man should contact police.