Designs for QE2 Asia hotel refit plan submitted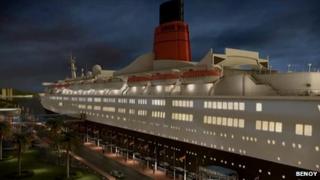 Designs for the potential refurbishment of the QE2 as a 400-room floating hotel in Asia have been submitted
International designers were invited to come up with proposals for the former Cunard ship's interior.
The QE2 Shipping consortium plans to sail it from Dubai to a Shanghai shipyard under its own steam for the refit.
The former Cunard liner left its home port of Southampton for the last time in November 2008.
It was sold for £50m to the United Arab Emirates real estate developer Nakheel.
Plans to convert the ship into a floating hotel and entertainment centre off Dubai's man-made islands in 2009 came to nothing after the economic downturn.
The ship's ownership has been transferred to a consortium of investors under a Dubai-based entity called QE2 Shipping, the chairman of the new company Khamis Juma Buamim said in a statement in July.
Earlier this week, the "QE2 New Life" project announced a Cosco Shipyard near Shanghai, world carry out the conversion into a luxury floating hotel.
Its 900 cabins are to be converted into 400 larger suites as part of the £62m conversion work.
Among the design bids submitted is one from British-based company Benoy, which promised hotel guests would "relive her heyday as the ultimate in ocean going luxury".
Designer John Denton said: "This is a ship that never looked back and we feel we should embrace that philosophy as we design this five star hotel.
"The key to this project is to keep the essence of the QE2. It's an iconic ship that still has a lot of emotion attached to it."
Their plans also include building an elevator to the top of the funnel which will be "re-imagined" as a viewing gallery.
QE2's eventual destination as a floating all-suite hotel is yet to be revealed.
He said the ship had already undergone a number of inspections, checks and upgrades.
It has also been brought back to class under the Lloyd's Register which would allow it to sail under its own steam.
It had been hoped QE2 would leave Dubai in a "gala sail off" on 18 October with stops at Singapore and Hong Kong before arriving at the China shipyard to undergo its transformation into a hotel.
The company has not yet commented on any new timetable.
Memorabilia from on board the ship is to removed and stored in a secure warehouse in Singapore, to be reassembled after the renovation is complete.
The 293.5m (963ft) long former Cunard flagship, carried almost 2.5 million passengers and completed more than 700 Atlantic crossings following its launch from the John Brown Shipyard in Clydebank in 1967.