Portsmouth 'luxury' bus fleet unveiled for routes 7 and 8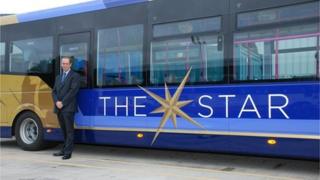 Twenty-six new "luxury" buses have been unveiled in Portsmouth, each named after naval ships based in the city.
The buses featuring leather seats, free wi-fi and on-screen BBC news updates will run on two existing routes along the Portsmouth bus priority corridor.
Bus company First has spent £4.2m on The Star buses, which will travel on routes 7 and 8.
They will go into service on 20 October. Ticket prices and timetables will remain the same.
Each bus is named after a different ship with Portsmouth connections.
These include three historic ships -The Mary Rose, HMS Warrior and HMS Victory - as well as the Royal Navy's current warships that operate from its base in the city.
The bus livery features a silhouette of the relevant ship and a list of its statistics.
They replace the former ZIP-branded vehicles.
Marc Reddy, managing director of First Hampshire, Dorset & Berkshire, said: "The Star brand does just what we set out to do, linking the bus services to the city and its proud sea-going history."