Roy Sawyers and Carlos Wilmot jailed for Portsmouth student torture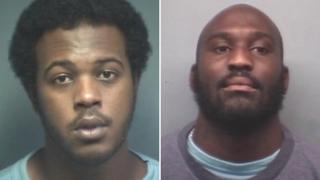 Two drug dealers have been jailed for enslaving and torturing a graphic design student in Portsmouth and attacking another.
They used a hot iron and a blowtorch to burn Nathaniel Smith and forced him to carry out drug dealing tasks.
Portsmouth Crown Court heard Roy Sawyers and Carlos Wilmot, both 23, admitted a series of attacks on Mr Smith and fellow student Sean McGrath.
The pair, originally from London, received 13 and 20 years respectively.
They were charged with false imprisonment and causing grievous bodily harm and actual bodily harm as well as supplying class A and B drugs.
The court heard the pair repeatedly and ruthlessly tortured Mr Smith, 21.
The defendants were obsessed by gangster films and were inspired by the violence used in them, according to police.
They also attacked a second student, Sean McGrath.
'Bullying and intimidation'
Rob Welling, prosecuting, said Mr Smith had come from London to study at the University of Portsmouth.
He was coerced into acting for Wilmot as well as Sawyers, who was studying for a human resources degree at the time of the attacks.
Mr Welling described how Wilmot moved into Mr Smith's room in a private residence and refused to leave unless he did his bidding and act as a drugs runner for the defendants.
He added that if Mr Smith did anything to displease the two men then he would be "ruthlessly" attacked.
Mr Smith was most savagely attacked with boiling water and a blowtorch in July last year when he failed to assault Mr McGrath, at the request of the defendants.
He was found badly burnt and half-naked in the front garden of a neighbouring house and suffered post traumatic amnesia, losing his memory of an entire week.
Sentencing the pair, Judge Pearson said: "You exploited and bullied two relatively young, inoffensive, timid students.
"That bullying and intimidation continued with a course of conduct that can only be described as torture."
AMENDMENT: This story has been changed in light of incorrect information supplied by the Press Association news agency.