Is Southampton in China's hands?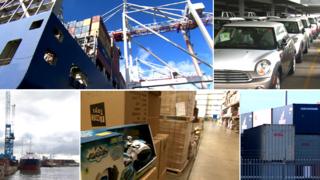 Trade with China is of increasing importance in the UK, no more so than in Southampton where the city's port is investing £150m to improve its infrastructure. But is the port in danger of putting too much faith in China?
A plastic remote-controlled motorcycle in a box on a toy shop shelf may not appear a symbol of commercial might. But when you see thousands of them stacked in a Southampton cargo warehouse you realise you are looking at a billion pound industry.
It is mostly down to this booming business from China that the city's port is willing to invest £150m.
"China is enormously important here at the port," said deputy manager Clive Thomas. "China represents about 60% of what we do through the container terminal.
Minis getting big
"Without the surge of demand from the Chinese economy we wouldn't be progressing with the level of investment we have at present here."
He says the port is a "good barometer" of the impact of Britain's business with China.
This has grown to such an extent in Southampton that the port is having to cater for larger vessels bringing the cargos in. Some ships are now capable of transporting up to 18,000 containers which are 40ft (12m) long and nine ft (2.8m) high.
In an effort to compete with rivals, Associated British Ports, the port harbour authority, has started constructing a new 500m berth in Southampton capable of handling the world's largest container ships. The project also includes four new ship-to-shore gantry cranes worth £26m and a substantial dredging effort to allow larger vessels to come through.
John Eynon, the managing director at Import Services, which processes three million boxes each year at its warehouses, said "around 95% of products" it handles comes from China.
He added: "It just seems as though the Chinese have taken over entirely the manufacturing of products. This time of year it is every hour, 24 hours a day, seven days a week that these cartons are coming down here."
On the flip side, the port is also changing to accommodate a growing export market from Britain back to China.
It is opening its fifth multi-storey car park this month to house orders of Minis and Land Rovers. Plans are already afoot for a sixth multi-storey.
Dr Hui-Chi Yeh, lecturer in China and Global Politics at Southampton University, said: "Southampton now handles 40% to 45% of the UK's deep sea trade from major economies in the Far East and China, and continues to attract trade delegations, notably from major Chinese ports, such as Qingdao.
"These meetings have contributed to trade in excess of £2.5bn in business deals alone this year. Provisional funding from the Regional Growth Fund for the City of Southampton's infrastructure projects has been made available to help develop these links further."
About 12,000 jobs are directly and indirectly dependent on the port's import and export industry, from dockworkers at the port to the hauliers delivering the goods to the shops.
But does this mean Southampton is entirely dependent on its business with China to survive?
Clive Thomas does not think so.
"South America and the Indian sub-continent are two places beginning to grow in popularity and importance to the manufacturers as well," he said.
"The capacity improvements we're making here at the port will ensure we're well prepared for the future."