Isle of Wight Ecoisland director David Green 'found hanged'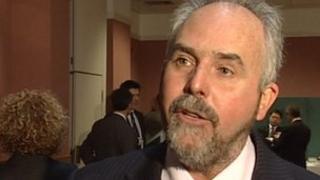 The director of the collapsed Ecoisland company on the Isle of Wight was found hanging from a tree in his garden, his inquest has heard.
The firm went into liquidation last week and David Green was held on suspicion of fraud after it emerged £115,000 of public funds was missing.
The 52-year-old was found dead on Monday. The inquest was adjourned.
The community interest company (CIC) aimed to make the island self-sufficient in terms of energy by 2020.
His inquest heard his wife had left him working in an office at their home in Woodvale Road, Gurnard, Cowes, but found him in the garden when she returned.
Paramedics tried to revive him but he was pronounced dead.
'Lack of funding'
Post-mortem tests gave the cause of death as asphyxiation by hanging.
Hampshire police, which has referred the matter to the Independent Police Complaints Commission, are not treating the death as suspicious.
In 2012, Ecoisland presented 14 objectives at a launch event at the House of Commons outlining how it intended to become a net exporter of energy by 2020.
Following its collapse, Isle of Wight Council said it had reviewed the delivery of the government's Green Deal, which offers grants for energy efficiency work for homes and businesses on the island.
It said approximately £115,000 of the £240,000 funding was unaccounted for.
An Ecoisland statement had blamed a lack of funding in a difficult economic climate for the decision to go into voluntary liquidation.