Anabelle Shepherd: Coroner rules treatment was 'inadequate'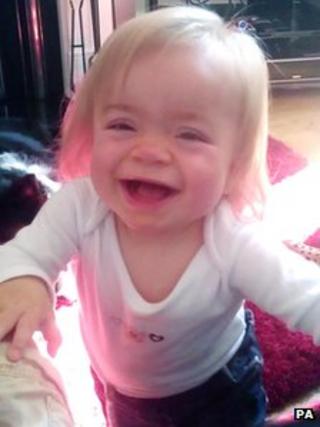 A toddler who died on Christmas Day from a serious infection was not adequately treated by hospital staff in Portsmouth, a coroner has recorded.
Anabelle Shepherd, who suffered from a rare genetic condition, had a weakened immune system following a bone marrow transplant earlier in the year.
She went to Queen Alexandra Hospital (QAH) in Portsmouth to be treated for an infection but later died.
The QAH has since changed its procedures for similar patients.
Annabelle suffered from a rare genetic condition known as Hurler's Syndrome.
Having undergone a bone marrow transplant at Great Ormond Street Hospital (GOSH) in August 2012 to cure the condition, the inquest heard the 22-month-old from Portsmouth had shown signs of improvement.
But in the run-up to Christmas 2012, Anabelle became lethargic and was taken to the QAH by her parents Leanne and Lee.
Her condition worsened and, after a seizure, she was moved to intensive care at Southampton General Hospital. Despite "desperate attempts" to stabilise her, she died on Christmas Day.
A post-mortem examination could not identify the infection which caused Anabelle's death and whether it was viral or bacterial.
'Extremely uneasy'
Anabelle had been taking drugs to suppress her immune system after the transplant and coroner Keith Wiseman said staff at QAH "did not give adequate recognition to her vulnerable status".
"There was a considerable amount of testing and monitoring going on ... but little impression that this was a major emergency developing."
He acknowledged that parents of children who have gone through complex medical treatments "acquire a great deal of knowledge ... to help their child through treatment".
He said consequently her parents were "extremely uneasy" and felt they were not getting enough attention from doctors and practical help from nurses.
They were also concerned that intravenous antibiotics had not been administered straight away and blood samples had not been taken.
Although the Portsmouth medics were in touch with GOSH, Mrs Shepherd had told the inquest she was concerned the London team was not being given the correct information on which to base any advice.
In a statement after the verdict, Mr and Mrs Shepherd said: "From the evidence we have heard it now seems clear that when Anabelle was admitted to the QAH their procedures were insufficiently robust to provide the correct care and treatments that Anabelle needed. The inquiry has revealed a number of gaps and failings."
The couple, who now have a newborn daughter, described Anabelle as "the most brave, inspirational person we knew".
"We hope very much that lessons are learnt so that no other parents have to go what we have been through," they added.
In a statement, Portsmouth Hospitals NHS Trust said: "The trust would like to extend sincere and heartfelt condolences to Mr and Mrs Shepherd for the sad death of their daughter, Anabelle.
"We have undertaken a detailed investigation of Anabelle's case to ensure as much learning as possible. Following this, a number of recommendations were made which the trust has now implemented."
During the inquest, the hospital admitted there was no protocol in place at the time for administering care for an immuno-suppressed child such as Anabelle.
Consultant paediatrician Simon Birch said staff recognised she was immuno-suppressed, otherwise he may not have seen her and she might well have been discharged as would have happened with a healthy child.
He said in retrospect there had been a lack of communication with the parents.
The coroner acknowledged blood and cultures are now taken and intravenous antibiotics administered on children in similar positions to Anabelle at QAH within one hour of admission, with more frequent observations.