HMS Lancaster sniper stops boat carrying £55m worth of cocaine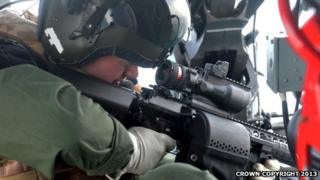 Cocaine worth £55m has been seized after a Royal Navy sniper shot a hole in a speedboat engine during a high-speed pursuit.
The gunman was on board a Lynx helicopter sent to chase suspected drug runners by the Portsmouth-based HMS Lancaster warship.
The occupants were apprehended and 17 packages dumped in the sea were seized.
Mark Francois, minister of state for the armed forces, called it a "fantastic success".
He added: "We should be extremely proud of HMS Lancaster's actions in the Caribbean and efforts to disrupt the supply of illegal, life-destroying drugs.
"Their constant hard work and professionalism is a great international advert for the Royal Navy and our country."
'Cat-and-mouse'
Cdr Steve Moorhouse, HMS Lancaster's commanding officer, said: "Hopefully this bust will make those who choose to smuggle narcotics in the region think twice."
Days earlier HMS Lancaster recovered about 1.2 tonnes of marijuana, with a UK street value of £3m, from the sea during a thunderstorm.
It had been ditched from a speedboat during an "all night game of cat-and-mouse" with the navy helicopter, a spokesman said.
Those onboard were arrested by the authorities once the boat entered Costa Rican waters.
In August the warship seized a stash of cocaine worth £100m from a speedboat near Puerto Rico.
It is on patrol with the US Coast Guard Law Enforcement Detachment as part of a multi-national effort to combat drug smuggling until the end of the year.