Southampton Football Club training ground plan backed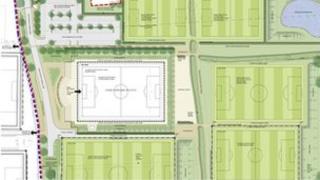 A plan to increase the size of Southampton Football Club's training ground has been approved.
The club wants to build five pitches and a 11-metre (36ft) high training dome on the 6.6 hectare site at Park's Farm, on Long Lane, Marchwood.
New Forest District Council's planning committee also approved a 108-space car park and floodlights at the pitches next to the A326.
It received three letters from two parties objecting to the plans.
However, the committee concluded it would have "no significant adverse impact upon the character and appearance of the area, adjoining amenity, nature conservation interests or highway safety".
The club believes the proposal "reflects plans not only to maintain Premier League status but push towards European qualification and beyond".
The facilities are intended for its youth academy and pre-academy.
However, the proposal is for a temporary period of five years, meaning the land could later be developed for housing.
A final decision will be made by Chris Elliott, head of planning and transportation, after 22 October.