Isle of Wight Ecoisland director David Green found dead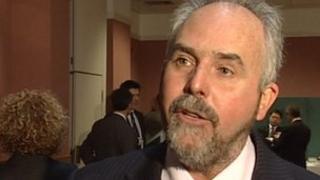 The director of the collapsed Ecoisland company on the Isle of Wight has been found dead.
David Green, 52, was found at an address in Gurnard on Monday. His death is not being treated as suspicious.
He had been held on suspicion of fraud after £115,000 of government cash was unaccounted for following the collapse of the community interest company.
Mr Green's death has been referred to the police watchdog following his contact with officers last week.
The Independent Police Complaints Commission is to look into the matter.
In 2012 Ecoisland presented 14 objectives at a launch event at the House of Commons outlining how it intended to become a net exporter of energy by 2020.
Following the collapse, Isle of Wight Council said it had reviewed the delivery of the government's Green Deal, which offers grants for energy efficiency work for homes and businesses on the island.
It said approximately £115,000 of the £240,000 funding was unaccounted for.
It added the company had been set up independently of the local authority after the council developed its own "Eco Island vision" in 2008 as "a broad-based strategy for improving the social, economic and environmental sustainability of the Island".
'Passion and drive'
An Ecoisland statement had blamed a lack of funding in a difficult economic climate for the decision to go into voluntary liquidation.
Editor of the Onthewight news website Simon Perry said reaction on the island had been "universally one of shock".
"People were aware of the liquidation of Ecoisland and the police investigation, but its deeply shocking someone has died," he said.
"The Isle of Wight is a very forward thinking place - there was promise in using the island as a Petri dish for companies to test out green ideas and scaling them up to the rest of the UK," he added.
Mr Green had previously worked for the UK Sailing Academy (UKSA) charity based at Cowes.
A spokesman said: "He left in 2006 to pursue his other passion - environmental issues. UKSA is indebted to David Green for his passion, his drive and the way he shaped the charity into the success it is today.
"Our thoughts are with his wife Pat and sons Matthew and Luke."
Isle of Wight MP Andrew Turner said: "I'm very upset to hear this sad news. My thoughts and prayers are with David's wife and his family and friends."
An Isle of Wight Council spokesman said: "The council offers its condolences to the family of Mr Green following their tragic loss."