Southampton Guildhall renaming 'cheapens' venue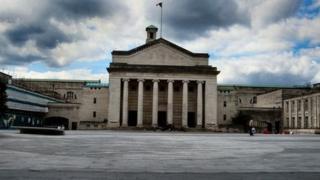 A decision to rename Southampton Guildhall as part of a commercial deal has been dismissed as "silly".
The Grade II listed building will be known as O2 Guildhall Southampton - the 16th UK venue to get the O2 branding.
Brian Sefton, from the City of Southampton Society (COSS), said he will refuse to use the new name which he believes "cheapens" the building.
Councillor Matt Tucker said the move bring benefits and you cannot "please all the people all the time".
The venue, which is managed by Live Nation in partnership with O2, will join the likes of the O2 Academy Brixton and O2 Apollo in Manchester.
Mr Sefton, who sits on the planning and environment committee of COSS, said: "It is silly, it cheapens the whole venue.
'Massive step'
"I do not think people in the city will call it that and I certainly won't.
"I doubt there is much that can be done to stop it as it is a commercial enterprise."
His wife Susan, who is also part of COSS, said she was "absolutely astounded".
Paul Latham, from Live Nation, said: "We are combining the heritage and civic pride of our partner at Southampton Council with the vision and talent of our marketing partners at O2."
The council-owned Southampton Guildhall opened in 1937 and is located at the centre of the recently defined Cultural Quarter.
It plays host to a range of entertainment including rock, pop, comedy and classical performances.
Councillor Matt Tucker, member for economic development and leisure services, said he was not aware of the council receiving any money for the name change.
He added: "Having this landmark building as an O2 venue represents a massive step forward in the establishment of the city's Cultural Quarter.
"This new relationship will help ensure that O2 Guildhall Southampton remains one of the most important event venues on the south coast, encourage more visitors to the city and provide value for the people of Southampton."