Portsmouth boat-building project receives £3.75m grant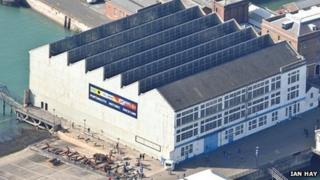 A traditional boatbuilding centre will open in Portsmouth following a £3.75m grant from the Heritage Lottery Fund.
A World War II boathouse in the Historic Dockyard will be restored to house the centre and is due to open for training courses in April 2015.
Visitors can view exhibitions and see traditional boat-building taking place.
The centre will also offer bursaries for local unemployed people to complete one year's full time traditional boatbuilding training.
Training 'in demand'
Boathouse 4, which was used during WWII to construct the three man midget X-Craft submarine, will be transformed into the Boatbuilding & Heritage Skills Training Centre.
Heritage Lottery Fund South East head Stuart McLeod, said the training was "in demand" and the exhibitions would "recreate the industrial past of Portsmouth Historic Dockyard's impressive cathedral-sized boathouse".
The courses will be offered by the Portsmouth International Boatbuilding Training College and the Portsmouth Naval Base Property Trust.