Clive Wilcox 2001 death: Daniel Scott jailed for manslaughter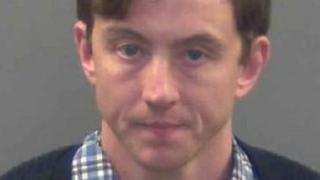 A man who went on the run after the death of a man in Dorset 12 years ago has been jailed for manslaughter.
Clive Wilcox, 42, of Moordown, died after being attacked as he left a One Stop shop in Winton in May 2001.
Daniel Scott, 33, formerly of Bournemouth, was sentenced to two years and nine months for manslaughter at Winchester Crown Court.
He was also given two years and four months for possessing a fake passport. The sentences will run consecutively.
Scott, of no fixed address, was arrested in June while intending to use the document at St Pancras International railway station in central London.
After catching the Eurostar from Paris to London, Scott was caught following a routine check by customs officials, Dorset Police said.
He was fingerprinted and identified as being wanted in connection with Clive Wilcox's death following suspicions about his passport.
Mr Wilcox was assaulted just before midnight on 4 May 2001 in Wimborne Road in Winton.
He suffered a serious head injury and died in hospital the following night.
Insp Stewart Balmer, from Dorset Police, said: "This sentence brings an extensive and lengthy investigation, which spanned 12 years, to a close.
"Key hurdles were the many young witnesses who were too scared to come forward and the fact the CCTV outside Winton's One Stop shop was not working at the time."
"We had our suspicions that he had gone to ground in mainland Europe but we were not in a position to get him back. We were just waiting for an opportunity.
"We have always suspected he may have been going back and forward into the country but we did not know by what means, what name he was using and whether he was using his passport or a fraudulent passport."