Hampshire's Ageas Bowl builder Denizen in administration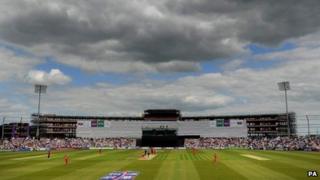 Work to build a hotel at Hampshire's Ageas Bowl cricket ground has stopped after the developers went into administration.
The multi million-pound project, backed by £38.5m from Eastleigh council, will see a new 175-room Hilton Hotel.
Council leader Keith House said taxpayers were not exposed as the council is buying the completed hotel.
Developer Denizen said efforts to turn the firm around failed. The club said major events would not be affected.
Denizen said: "The move follows stringent efforts... to fix the business after 'serious flaws' were unearthed in the pricing of a number of the contracts.
"The current outcome... was never envisaged and it was the new board's expectation that they would be able to complete the three contracts on its books."
In an email obtained by BBC News, managing director Steven McGee wrote: "[We have] encountered considerable difficulties in progressing and completing current projects.
"This has been brought about by erroneous project budgets, exacerbated by supply chain cost increases as the industry emerges from recession.
"The Southampton project will be closed forthwith until a solution can be found."
'75% completed'
In a statement, the club said: "Whilst there will inevitably be a short delay to the opening of the hotel, funding to complete the project remains in place and the process to replace Denizen as the main contractor is already underway.
"This development will not affect the ground's ability to host major events in 2014."
It is not yet clear how many jobs will be affected.
The Ageas Bowl development was agreed in 2012 with the council committing to invest £38.5m.
Mr House added: "The council has no exposure as we will purchase the completed hotel.
"We are working to find a new contractor as quickly as possible so the development can be completed.
"Clearly I'm concerned about the employees at the the site and those around the country but it doesn't directly affect the council."
He said the hotel was "75% completed" and was confident it would be finished without a long delay.