Arrest over Isle of Wight Ecoisland missing cash probe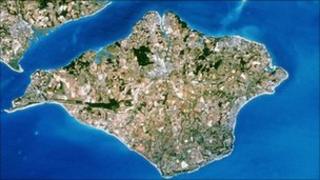 A man has been arrested amid an investigation into the collapsed Ecoisland company on the Isle of Wight.
The community interest company (CIC), which aimed to make the Isle of Wight self-sufficient, went into voluntary liquidation earlier this week.
The council said it had commissioned the CIC to deliver the government's Green Deal but nearly half of the £240,000 funding was unaccounted for.
Hampshire police confirmed it had arrested a man on suspicion of fraud.
There has been no comment from anyone connected with Ecoisland.
Before the arrest, an Isle of Wight Council statement said it had reviewed the delivery of the Green Deal which offers grants for energy efficiency work for homes and businesses on the island. It said approximately £115,000 was unaccounted for.
It added the CIC had been set up independently of the local authority after the council developed its own "Eco Island vision" in 2008 as "a broad based strategy for improving the social, economic and environmental sustainability of the Island".
"The company's liquidation has no bearing on the council's aspirations to both make the Island more sustainable and to improve our economy in doing so."
A spokeswoman for Hampshire and Isle of Wight Constabulary said: "The matter has been reported to us. We are looking to establish whether any crime has been committed."
In 2012 Ecoisland had presented 14 objectives at a launch event at the House of Commons outlining how it intended to achieve self-sufficiency and become a net exporter of energy by 2020.
It said power for the island, which draws 600GWh of electricity per year from the mainland, could generate power from a waste to energy plant, solar panels and tidal and geothermal power.
A company statement earlier this week blamed a lack of funding in a difficult economic climate for the decision to go into voluntary liquidation.
Ecoisland was a "community interest company", which means it can act like a limited company but its assets and profits must be used for the benefit of the island's 142,500 residents.