Charles Dickens statue auction planned to meet funds target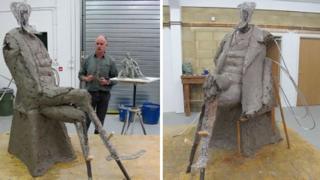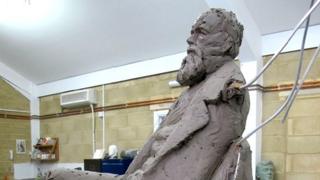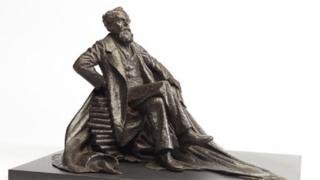 Fundraisers for the first Charles Dickens statue in the UK are organising an auction to help meet their target.
The Charles Dickens Statue Fund is confident the remaining £12,000 will be raised for the £140,000 statue in Portsmouth, where the author was born.
The auction at the end of October will include manuscripts, books and a limited edition cast of the sculpture's maquette.
A date for the unveiling of the bronze statue in Guildhall Square will be made public next week.
Will 'banned statues'
The statue's sculptor Martin Jennings, who donated the bronze cast of the maquette and a bronze bust of Dickens, said the statue was currently in the foundry being cast in bronze.
Professor Tony Pointon of the Dickens Fellowship in Portsmouth said: "We know there are a lot of people who will want to be a part of [the statue project], so we are confident that this money will be raised."
He said donations for the sculpture had been trickling in without any publicity.
These add to the fundraising efforts of people including Dickens' great-great grandsons Ian and Gerald Dickens.
The brothers completed the "Nickleby Walk" from London to Portsmouth, in the footsteps of one of the author's most famous characters Nicholas Nickleby.
Plans for the statue have been two years in the making, and included a decision mid-way to double the sculpture's size.
Mr Pointon, a retired professor of physics, said he was "absolutely stunned" when he saw the finished clay version of the statue.
"I'm not one who is silent, but it was about five minutes before I said a word."
A passage in Dickens' will requested that no statues or monuments of him should be built.
But Ian Dickens has disputed the wording of the passage, stating his relative was "clearly talking about his grave".
There are known statues of Dickens in Philadelphia in the US and Sydney, Australia.