Hartmann's mountain zebra born at Marwell Zoo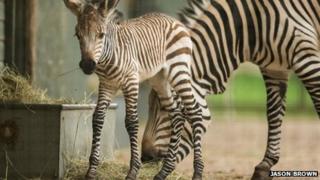 A rare zebra has been born in a zoo in Hampshire.
Luna, the Hartmann's mountain zebra, has been described by Marwell Zoo in Winchester as an "important animal for the future of the species".
It is the first of its kind to be born at the zoo for 16 years. There are only about 8,300 left in the wild.
Conservation biologist Tanya Langenhorst said: "It is difficult to match a male and female and to have two proven breeders is excellent."
The foal was born last Tuesday to first time parents Libra and Gounzo.
Ian Goodwin, collection manager at the zoo, said: "We have worked very hard to breed this species so the arrival of Luna is a great achievement for us.
"The foal is settling in very well and Libra is an excellent mum considering it's her first."
Conservation charity Marwell Wildlife is working on a captive breeding programme of the species with the European Endangered Species Programme.
The Hartmann's mountain zebra is listed as vulnerable in the wild. They exist almost exclusively in Namibia and their numbers are in decline.