Action Stations in Portsmouth sorry for 'asylum' event publicity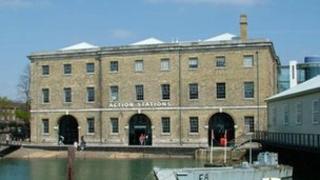 A visitor attraction in Hampshire has apologised for inviting Halloween revellers to an "asylum" to meet "disturbed and dangerous patients".
People complained that the publicity for a "fright night" at Action Stations in Portsmouth showed "ignorance and prejudice" towards mental illness.
The venue has withdrawn all publicity of the laser quest event.
The issue follows complaints made to supermarkets for selling asylum and psycho fancy dress costumes.
Zombie outbreak
Action Stations, set within Portsmouth Historic Dockyard, gives visitors a hands-on experience of life in the Royal Navy with aircraft and warship simulators and other educational attractions.
The event theme at the attraction is a zombie outbreak.
But the promotional material prompted criticism on the venue's Facebook page.
Sue Billingham wrote: "I am very distressed by the attitude to mental health patients demonstrated in the description of the 'asylum' where you will be scared by dangerous and disturbed patients.
"I know many in this city, including my husband who battle with mental illness.
"This shows ignorance and prejudice and marginalises so many in our society."
Peter Dobinson wrote: "Err guys, how is this appropriate? Enter the asylum? See the most disturbed patients? Come on, this is not on!"
General manager Kerry Jarvie said: "Action Stations is sorry its publicity for its Fright Night event has caused offence.
"This event is in its second year and continues the theme along the storyline of a zombie outbreak, regrettably this information was not clearly portrayed in our marketing for the event.
"However, given recent publicity surrounding controversial Halloween outfits, our advertising should have made the event theme clearer."