Winchester house fire investigated as 'suspected arson'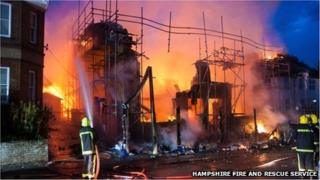 A fire that broke out at a home under construction in Winchester is being treated as arson following a Hampshire police and fire service investigation.
Ten homes were evacuated during the blaze in Hatherley Road on 22 August at around 04:30 BST.
Forty firefighters spent three hours extinguishing the fire.
Hampshire Constabulary and Hampshire Fire and Rescue Service said they had ruled out accidental ignition from "faulty electrics" or "on-site staff".
A spokesman said the fire would now be investigated as a "suspected arson attack".