Four jailed for Southampton cocaine conspiracy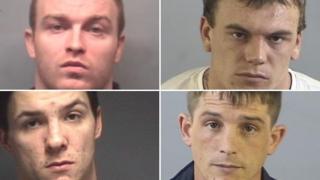 Four men who pleaded guilty to their part in an operation to supply cocaine in Hampshire have been jailed.
Shae Flaherty, 27, Graham McStay, 32, Mitchell Collins, 27, and Kristopher Easton, 29, admitted to conspiracy to supply Class A drugs at Southampton Crown Court.
Police said the four had bought cocaine from a group of Albanians based in London on a wholesale basis to sell on.
They were jailed for between two and eight years.
The ringleader had been Flaherty, of Sway Road, Bashley, who was sentenced to eight years in prison, the court heard.
The other three men, all of Southampton had had lesser roles, with McStay storing the drugs and Collins driving to London to meet the Albanian dealers and guide them to Southampton.
Easton, 29, of Hulse Road, was given seven years six months, McStay, 32 of Cross Road was jailed for three years and Collins, 27 of Redcote Close, was sentenced to two years six months.
McStay also received a four month sentence for growing cannabis, which will run consecutively.
The four were caught after police in Hampshire carried out a surveillance operation between March and July last year, tracking mobile phone use and car number plates.
They were arrested after officers witnessed the gang purchase a kilogram of pure cocaine with a wholesale value of £50,000.
Earlier this month, seven members of the Albanian gang were jailed at Southwark Crown Court for conspiracy to supply Class A drugs.
• This article was amended on 1 October to make it clear drugs were stored by Graham McStay.