HMS Monitor M33 to become Portsmouth tourist attraction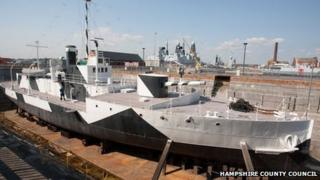 A World War I warship is to be turned into a visitor attraction after winning Heritage Lottery Fund (HLF) backing.
The £1.79m grant will see the interior of HMS Monitor M33, a coastal bombardment vessel which served in the Gallipoli campaign, refurbished.
The work on the ship, built in 1915, will be done at Portsmouth's National Museum of the Royal Navy (NMRN).
Minister for Tourism Hugh Robertson said the vessel provided a "tangible and compelling" link to WWI.
The ship initially saw action during the Gallipoli campaign in 1915, supporting allied troops attempting to land on the coast of Turkey.
The 180 ft (55m) ship's role was to provide cover for troops landing on beaches using a pair of 125mm guns on board.
It returned to Portsmouth Harbour after being involved in the Russian Civil War in 1919 and was acquired by Hampshire County Council in 1990.
The NMRN's Professor Dominic Tweddle said the institution, where the vessel has been held since it ceased being seaworthy, was "absolutely thrilled".
"We've long seen M33 as both culturally and historically important, and this symbolises the start of a new era for her."
The restoration work, funded by the HLF alongside a £250,000 grant from the county council, will see the rusting interior turned into a visitor attraction, which will illustrate what life was life for sailors on board.
It is hoped the ship will be open to the public in time for the centenary commemorations of the Gallipoli Campaign in 2015.