MP Mike Hancock conduct report 'should go to CPS'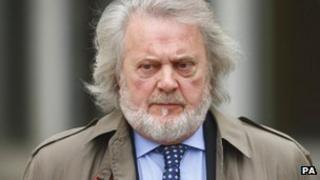 Portsmouth councillors have called for a report into the conduct of MP and councillor Mike Hancock to be handed to the Crown Prosecution Service.
Earlier this month, an independent report on Mr Hancock, who is accused of sexual assault, found he failed to observe the council's code of conduct.
City Labour leader John Ferrett and deputy Conservative leader Luke Stubbs want the CPS to decide whether Mr Hancock has a criminal case to answer.
Mr Hancock denies the allegations.
The Portsmouth South MP was arrested in 2010 on suspicion of sexual assault, but has not been charged with any offence.
In a letter to council chief executive David Williams, Conservative and Labour members say a recent investigation by Nigel Pascoe QC into the allegations against Mr Hancock "may amount to significant new evidence".
'Political points'
Mr Ferrett said: "I find it astonishing Cllr Hancock continues to remain as a member of the city council's cabinet now that the QC's investigation states there is a case to answer on allegations of bullying, failing to treat a person with respect, breaching statutory equality duties and bringing the authority into disrepute."
Council leader Gerald Vernon-Jackson defended Mr Hancock's position and told BBC Radio Solent he supports him remaining as a paid councillor.
Mr Hancock felt the call from Labour and Conservative councillors was an attempt to score "political points".
He said: "It's my political opponents, who for most of my life, have spent endless energy trying to do me damage.
"I will vigorously defend myself in the court.
"The CPS had a full report from the police three years ago and they decided to take no further action. I don't know what Mr Pascoe has found that the police didn't."