Queen Mary 2 comes to aid of Canadian rower Mylene Paquette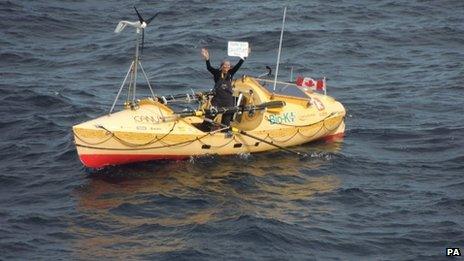 A UK cruise liner has come to the aid of a Canadian rower aiming to cross the Atlantic.
Southampton-based Queen Mary 2 was requested to rendez-vous with Mylene Paquette to supply her with a satellite telephone and new sea anchors.
Ms Paquette, who is attempting to become the first North American to row the Atlantic solo, had been hit by the remnants of Atlantic Storm Humberto.
She said seeing the liner in the North Atlantic was a "dream come true".
The rower is 83 days into her adventure and still has about two months to go, while the Cunard liner is on a seven-night crossing from New York to Southampton.
Captain Kevin Oprey said: "We are happy to have given assistance to Mylene and help her recover from the damage inflicted by the storm. We wish her the very best of luck with her solo Atlantic rowing adventure."
The ship also supplied her with various provisions including English tea and pastries.
Ms Paquette was also given bottled water, soap and a scraper to remove the barnacles from underneath her boat.
She was applauded by passengers, who gathered on the decks as the ship's horn sounded three times in salute.
"This is a dream come true. For me to see the QM2 in the middle of the Atlantic is something I would have never hoped for.
"I want to thank all of the members of the crew for making this encounter happen," she said.
Related Internet Links
The BBC is not responsible for the content of external sites.