Vladimir Antonov was 'primary mover' in bank fraud, hearing told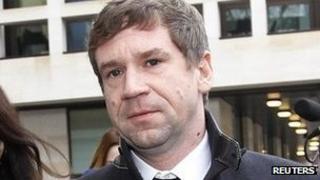 The former owner of Portsmouth Football Club was the "primary mover" in a fraud worth almost 500m euros (£420m), a court has heard.
Russian Vladimir Antonov, 37, and his Lithuanian business partner Raimondas Baranauskas, 55, are fighting extradition to Lithuania.
The pair are alleged to have stripped funds and assets from Lithuanian bank Snoras, which was controlled by Mr Antonov.
Both men deny fraud and theft charges.
The hearing at Westminster Magistrates' Court was told the pair also submitted false documents to the Lithuanian central bank to conceal their activity across 33 transfers between 2008 and 2011.
John Hardy QC, prosecuting, said: "Over the course of the period, securities and cash were transferred from Snoras accounts to private accounts owned, or least controlled and managed, by these two defendants in vast quantities.
'Political conspiracy'
"Mr Antonov was, we say, the primary mover; Mr Baranauskas to a lesser extent."
Lithuanian prosecutors issued a European arrest warrant for Mr Antonov and Mr Baranauskas in November 2011 after naming them as the main suspects in a pre-trial investigation.
The men are each accused of five offences of fraud and theft and are on conditional bail.
They claim to be victims of a "politically motivated conspiracy" to nationalise Snoras bank, where Mr Antonov was a majority shareholder and which owned a stake in anti-Conservative newspaper Lithuania Morning.
Mr Antonov bought Portsmouth Football Club in June 2011, but was forced to stand down as chairman in November that year when his company Convers Sports Initiatives (CSI) went into administration.
The hearing is expected to last two weeks.