Type 45 destroyer HMS Duncan 'christened' at Portsmouth Naval Base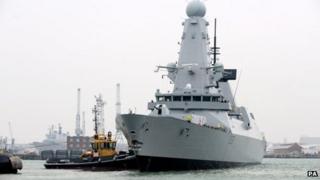 The last of the Royal Navy's new Type 45 warships has been "christened".
HMS Duncan's transition into front-line service was marked by a commissioning ceremony at Portsmouth Naval Base.
It joins HMS Daring, HMS Dauntless, HMS Diamond, HMS Dragon and HMS Defender in active service, which were described by the Royal Navy as the "most advanced warships the nation has ever built".
Cdr James Stride, its commanding officer, called it a "major milestone".
He added: "To command a new ship is an immense privilege, one for which I will forever be grateful.
"I am blessed by a highly professional ship's company who are extremely proud of being Duncanites."
More than 200 people attended the hour-long ceremony, including veterans from the last HMS Duncan, a Type 14 frigate which was in service between 1957 and 1985.
Sir Robin Knox-Johnston, the first man to sail solo non-stop around the world, and who served on board the previous ship, was amongst the guests.
'Proud day'
The ship's marine engineer Lt Cdr John Bullock, 51, from Falmouth, Cornwall, also served on the previous HMS Duncan.
He said: "What a privilege to have my career extended to serve on this ship - there are a pair of Duncan bookends at either end of my career."
Leading seaman Chris Young, 25, from Northampton, said: "It's a very proud day for the ship and her company.
"The sea trials have allowed us to show off the vessel to the fleet and the admiralty but to show her off to our friends and family is really important for all of her crew."
A Royal Navy spokesman said: "The ship's company... enjoy creature comforts only dreamed of by their forebears.
"No sailor lives in a mess square for more than six people and there are no communal toilets or showers."
The ship is in the middle of a period of trials and training around the UK which will last into 2014.
A 12-year building programme took place to complete all six air defence destroyers.
The first Type 45, HMS Daring, arrived in Portsmouth in January 2009.